Understanding B2B Digital Marketing: The Basics, Strategies and Trends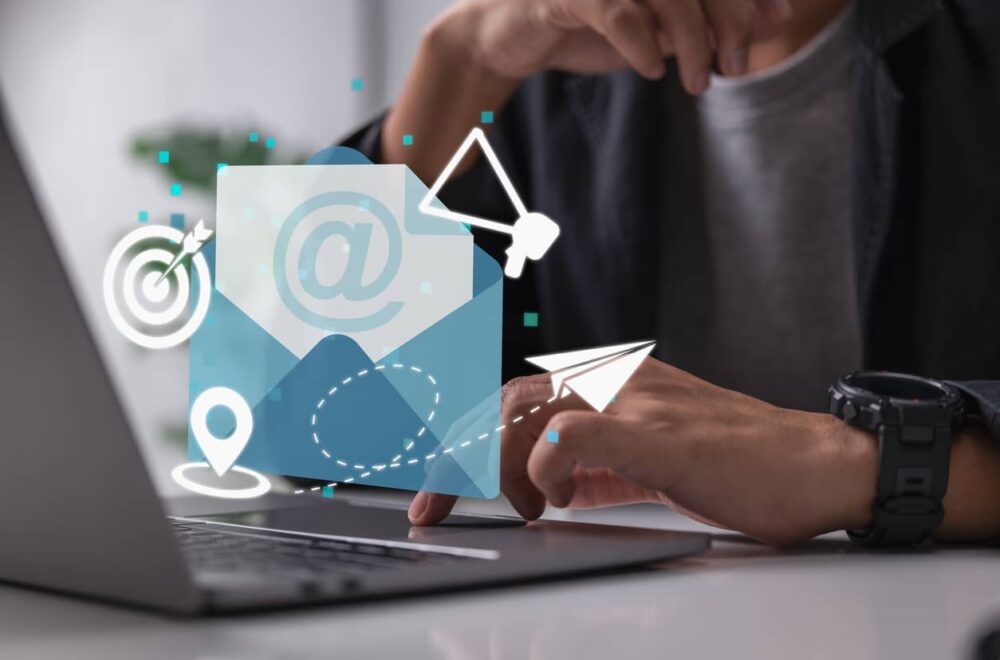 Business-to-business digital marketing has undergone a big change in the last two decades. It has become a discipline in its own right, with its own basics, strategies and key success indicators. This change comes with an expansion of possibilities and enables previously unimaginable levels of business efficiency.
Table of Contents
What is B2B digital marketing?
B2B (Business to Business) digital marketing is a business practice in which a company attracts the attention of other companies to sell them a product by relying on the new possibilities offered by the Internet and its digital tools.
The products marketed are initially designed to bring added value to the purchasing companies, value that must be promoted effectively. To make your sales efforts successful, you can use digital marketing tools such as:
your company's website and related communication tools (newsletters, blogs, etc.)
industry and corporate social networks such as LinkedIn, Facebook, Instagram and Twitter
advertising on Internet search engines
email marketing
thematic blogs, etc.
B2B Marketing / B2C Marketing: what are the differences between the two?
The term B2B is generally used to refer to the commercial framework in which companies exchange services, products or information. Traditionally, B2B marketing strategy is built on the same foundation as B2C ("business to consumer"). But in recent years, B2B marketing has developed its own specificities.

Purchase intention
In the B2B approach, as opposed to B2C, customers do not make purchases emotionally, spontaneously or impulsively. They buy to meet specific needs.

Decision-making
In B2C, the seller addresses an individual or a couple of individuals. If the price is right, there is no need for a multitude of interactions to convince the target audience.
The task is much more complex in B2B. You don't have to convince one person, but rather a group of people. Most transactions are based on the evaluation of possible solutions, on the urgency of the purchase and on rational data.

The sales cycle
In B2B, the product sales cycle is longer than in B2C. You need to think about building long-term relationships with your customers and potential customers. Target key players within the companies that interest you. It is important to be able to work to keep them in your network and retain them as customers.
Building a B2B digital marketing strategy: what are the challenges?
Regardless of its size, your company has everything to gain by implementing a digital business strategy. It allows you to take full advantage of the many opportunities available on a market that's increasingly focused on technology and digital communication.
A B2B digital strategy is built little by little following several steps, namely:
market segmentation through the creation of buyer personae
defining SMART (Specific, Measurable, Attainable, Realistic, Time-bound) objectives
development of your prospect database. To achieve this, you need to leverage your traffic and convert as many visitors as possible into leads.
sorting and classifying leads in the database: you can perform these tasks using lead scoring and segmentation
the production of relevant content, which brings added value to your target
customer loyalty and transforming customers into brand ambassadors: both are based on customer satisfaction
analysis and optimization of campaign results

A strategy to position yourself as an expert
When you bring relevant and useful information instead of trying to sell, it sets the right tone. Writing white papers, reports and blog posts, creating checklists and infographics, organizing webinars: leave no stone unturned to prove that you have the skills to solve the problems and challenges your audience is facing. The resulting positive experience attracts the attention of your prospects and customers. By addressing topics of interest related to your field of activity and your company, you inspire confidence and establish yourself as an expert.

A strategy to gain visibility and have a better conversion rate
It is essential to make yourself visible to your customers and prospects. For this, it is important to work on the SEO (Search Engine Optimization) of your website. This technique also serves as a driver for generating qualified leads. With a good strategy, you can increase your chances of converting your visitors into leads and then into customers.

A strategy to improve customer loyalty
A good digital strategy allows you to be closer to your customers. They also feel connected to your company and its products since you meet their needs through them. This is how they become loyal to you. Consistency in your marketing approach is key to establishing your reputation as a leader and building the credibility that comes with that reputation.
B2B e-Marketing: the essential trends
In the last few years, several techniques and methods based on innovative technology for business-to-business digital marketing strategy have emerged.
Inbound marketing
In outbound marketing, the traditional form of marketing, the approach consists of using the wide range of prospects that you have established thanks to the personae. This strategy aims to actively create several opportunities for contact between your offer and your target audience but may seem more intrusive to your audience. Conversely,inbound marketing aims to bring the customer to you through the creation of content likely to interest them. This is a good way to position yourself as an expert in your field. The combination of inbound marketing and SEO will not only ensure a steady flow of leads, but also allow you to present them with the right solution to their problem.
Video Marketing
This allows you to easily engage your leads through the use of video. Did you know that 70% of B2B searchers and buyers watch videos in the buying process? By giving buyers easy access to relevant information, video is a great tool for generating engagement.
Account marketing
Account marketing is a business approach that aims to adapt a message and design according to a previously analyzed profile. Following this logic, the company must adopt a more personalized approach in terms of prospect research, customers, and even advertising.
Account marketing is oriented towards an in-depth analysis of each customer typology. It targets fewer accounts, but achieves a higher conversion rate.
The priority of mobile access
The vast majority of prospects use smartphones and other mobile devices for their business activities. You need to adapt to the trend by providing your prospects with a website optimized for mobile devices and/or a mobile app.
Storytelling
Storytelling is a communication method that allows you to highlight your company and strengthen its image through the telling of its story. For it to be effective, you must define the elements to be highlighted. Your story also needs to be well-paced to be more memorable and make more of an impact.
Customer-oriented digital content marketing
As a component of inbound marketing, content marketing is there to generate a unique and successful customer experience. It requires establishing a precise editorial line in the face of buyers who have become more demanding and more fickle. They expect personalization in the messages they receive.
Creating unique and relevant content over the long term by applying SEO requirements and diversifying the formats of published content and digital media (social networks, email marketing, newsletters, case studies...) allows your company to stand out.
B2B digital marketing therefore contributes to obtaining better visibility and generating qualified leads. To have an overview of the evolution of the strategies deployed within your company and those to be implemented, you can also adopt a Data-Driven approach or plan while keeping an eye on the developments that characterize the current situation: virtual reality, augmented reality and artificial intelligence will soon open new doors.
---
Are you looking to initiate a B2B digital marketing strategy capable of getting your products featured prominently on the major search engines and increase your exposure to the global market?
To date, VirtualExpo has helped over 40,000 manufacturers and industrial players improve their search engine rankings. We use our expertise and in-depth knowledge of web optimization to create SEO services specifically tailored to manufacturers and B2B companies.
Transform the way you sell