Six SEO strategies to grow your business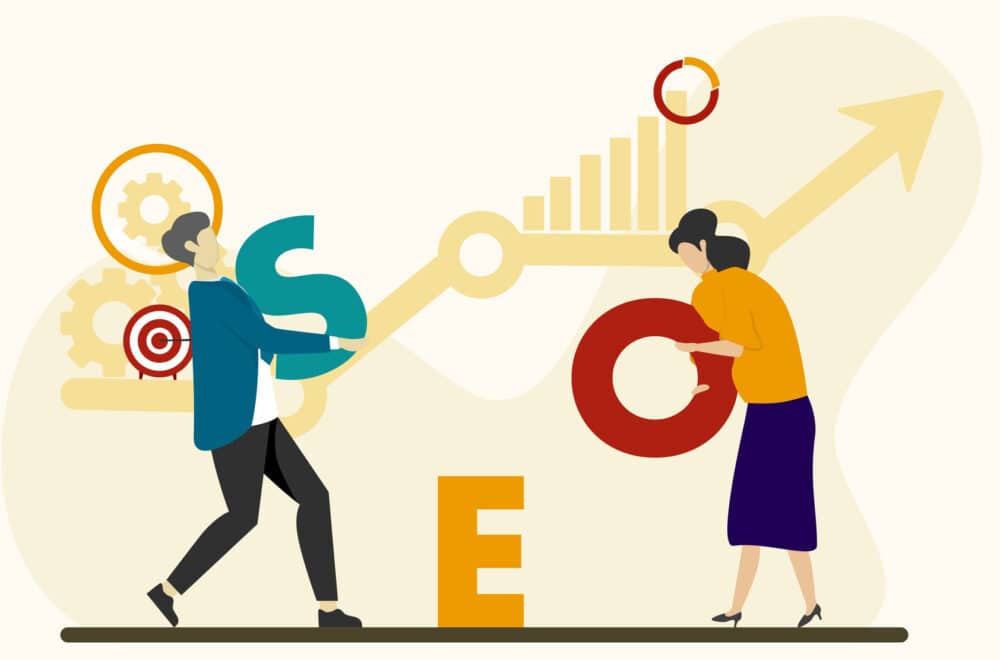 SEO (Search Engine Optimization) allows companies to benefit from better online visibility and generate quality leads. In B2B, SEO is one of the most relevant customer acquisition channels. Precisely controlling your SEO is necessary to ensure a regular increase of organic search traffic and an optimized positioning in the rankings of search engine results pages.

Today, all organizations need a marketing strategy that takes into account SEO in order to improve their organic visibility and accelerate growth.

We will review six decisive points to implement or improve your SEO.


1. Set achievable SEO goals to generate B2B leads
Search engine optimization can be a real lead generation campaign : by making your site more visible on search engines, you increase your chances of interacting with new prospects.
Generating leads means acquiring qualified contacts by implementing methods to make your pages easier to find for your target audience. 93% of online shopping experiences involve the use of a search engine, so it's easy to see why quality SEO is essential.
While SEO is one of the most interesting marketing channels, it is essential not to overestimate the impact of the actions taken for this purpose. Lead generation is not a goal in itself. To achieve measurable results, you will need to take consistent steps. The SMART method (Specific, Measurable, Achievable, Realistic and Time-bound) is often used in SEO. It will help you set realistic and specific goals, such as increasing your organic traffic by 30% within 6 months.
2. Define your B2B personas
In order to carry out effective marketing actions, it is essential to know who you are targeting. This involves the development of "buyers personas" or "customer avatars". It is about your ideal customers, the most likely to be interested in the products and services offered.
In B2B, it is not the consumers who you should target but the companies.
The definition of target groups goes through two steps. The first is to analyze the behavior of your prospects, especially through the data provided by Google Analytics. The second is to synthesize the results obtained to create empathy maps of your personas. Based on a few key elements (gender, age, profession, family situation, interests, etc.), they will give you a solid foundation for all of your marketing actions.
3. Identify the most relevant keywords
To be efficiently optimized, a website must give great importance to the keywords used in its various content. The terms and expressions that have a specific meaning for a given subject are favored by search engine algorithms, which is why this step should not be neglected.
To help you choose your keywords, you can collect information on your personas, analyze the sites of companies in the same sector and observe the most used expressions on Google via specialized software. This work will help you choose the most appropriate keywords in a B2B approach, get noticed by your prospects and generate leads.
4. Publish high value-added content
To be favored by search engines, content marketing is essential.
B2B companies that offerregular, long enough and qualitative content are able to generate more traffic than their competitors. Creating a professional blog linked to the main website is a good initiative, and makes it possible to publish various types of content and longer formats. Blog posts can be used to answer frequent questions from Internet users, reinforce your position as an industry expert and increase customer loyalty.
High-value content will also help you generate leads by addressing topics that correspond to the expectations of your buyer personas.
5. Develop a backlinking strategy
A good B2B marketing strategy should make it easy to generate quality leads. This is done through studied link building, based on actions allowing you to incite third party sites to propose links towards your pages. These backlinks are particularly important with regard to Google's algorithms, which give importance to this aspect when defining the ranking of SERPs. This strategy involvesidentifying sites that are relevant to your business and creating newsworthy articles for these sites to publish. This can be a time-consuming, but is a highly effective process.
Publishing content on relevant sites will allow you both tobe better referenced and to generate more organic traffic on your website.
6. Optimize user experience
Companies looking to generate leads via their positioning on SERPs cannot afford to overlook user experience.
This notion corresponds to theexperience lived by an Internet user when they visit your website. Several major points define it, such as the usefulness of the information provided, the fluidity of the navigation, the comfort of use on smartphones and tablets and the general ergonomics of the site. All these elements are taken into account in the organic SEO of your pages. Google strongly penalizes sites that do not facilitate access to information.
In order to appear in the first search results, it is mandatory today to have a site based on responsive design i.e. a site that benefits from an optimal display on all mobile devices. Optimized internal linking structure is another major asset that could generate more traffic as well as facilitate the purchasing process in B2B.
A B2B SEO strategy is a long process, which goes through several major steps before generating quality leads. From the creation of a high value-added content to the choice of keywords and the optimization of the user experience, the best practices to improve SEO are diverse and sometimes complex. With the constant evolution of Google's algorithms, it is also important to regularly observe some major indicators (traffic, conversion rate, etc.) to maintain the best possible visibility online.
---

Is your goal to attract more qualified B2B leads to your products and services in order to grow your business?
We master techniques for improving your ogranic SEO and ranking on search engines while improving your presence online.