The Best Types of Content Marketing for Generating B2B Leads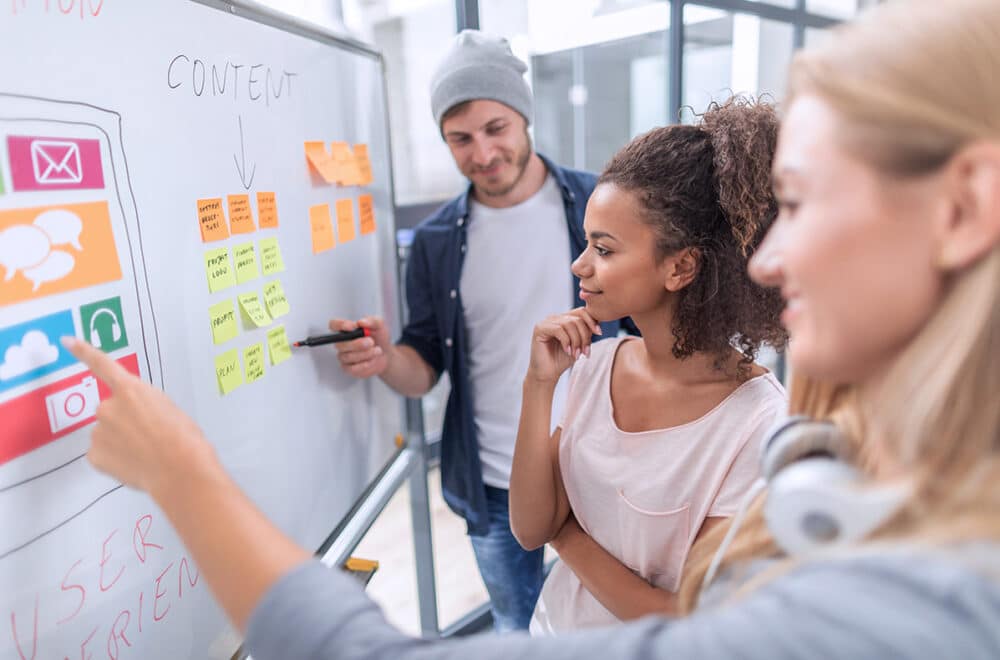 Content marketing is an essential part of any B2B strategy. Regularly creating quality content is the best way to generate qualified leads. What's important is to choose the right format for your target audience. In this article, discover the 10 most effective types of content to achieve your goals.
What is B2B Content Marketing?
Content marketing refers to the process of creating valuable content and distributing it to a company's prospects and customers.
As its name suggests, B2B (Business to Business) content marketing is specifically aimed at professional prospects.
Content marketing is a true pillar of inbound marketing. The goal of this type of strategy is to attract new potential customers by offering concrete answers to their problems. It will allow you to prove your expertise and convince them of the quality of your services.
More specifically, a B2B marketing strategy based on content production will help:
increase your visibility
convert your prospects into leads, then into customers
improve your organic search engine optimization (SEO) and appear in the first results of Google
generate qualified traffic to your website
According to a recent study by Demand Metric, content marketing generates three times more B2B leads than traditional advertising, while costing 62% less. Unlike paid campaigns, content marketing continues to exist and generate business long after it is released.
The Lead Generation Process
For any company, generating qualified leads is a major challenge.
Lead generation is a process that aims to transform visitors into potential customers.
There are two main types of lead generation. In B2C, the conversion funnel is generally shorter and less complex than in B2B. In the second case, it is even more important to produce content carefully and distribute it at the right stages of the sales cycle.
At the beginning of their buying journey, prospects prefer short content that will help them discover the subject. But the further along they get, the more they will need access to detailed content to make their decision.
What is the Role of Content Marketing in Lead Generation?
Content marketing is one of the most powerful lead generation tools.
The goal of content marketing is simple: to provide prospects with valuable content and convert them into customers. By providing interesting content and offering answers to their questions, you will be recognized as an expert in your field.
These prospects will see that you understand them and want to help them grow their businesses, which will make them trust you. They will be more likely to consider your offers.
This means that you have to know your audience and their needs ahead of time.
Another challenge of content marketing lies in a company's ability to constanty create interesting and varied content. It is essential to avoid boring your readers and also meet search engine algorithm requirements.
Essential Types of Content for B2B Lead Generation
Blog posts
Any business that wants to generate more leads needs to create blog posts.
Blogs are a great way to get qualified traffic to your website. It allows you to:
provide the latest news in your sector through short articles (less than 800 words)
Deal with deeper issues with longer articles (over 800 words).
In addition to demonstrating your deep knowledge of your field, blog posts are the best way to drive traffic to your site. They allow you to improve your SEO and gain visibility on Google.
Social Media Content
Social media promotes interaction and instant communication. Of course, it is not always necessary to be present on all available forms of social media. It all depends on your target.
Facebook, Instagram, LinkedIn, Twitter or even TikTok offer different opportunities.
Newsletters
While they are often criticized, newsletters remain an excellent channel of communication and B2B conversion. They offer countless opportunities for segmentation and allow brands to create strong relationships with their audience.
Here again, it all depends on the quality of the content delivered. By bringing relevant content directly to your prospects' inboxes, you will succeed in creating long-term interest.
Podcasts
Podcasts have significantly increased in popularity in the last five years, and no doubt this trend will continue.
Although more difficult to set up, podcasts are still a particularly effective type of content for B2B. Whether they are educational, entertaining or inspiring, they enable in-depth discussion of topics.
Webinars
Hosting webinars to address your prospects' issues allows you to stand out from the competition.
Webinars are a unique opportunity to showcase your expertise and interact directly with your audience.
Videos
Videos are also very popular and help facilitate comprehension. Watching a video often has more of an impact than reading a long explanatory text.
This type of content also definitely encourages sharing, especially on social media. They will help you build your reputation with your B2B prospects.
Infographics
Infographics are so successful because they are visual. They help break complicated subjects down into key parts.
Like videos, infographics are easy to share and can quickly go viral.
White Papers
White papers are important in B2B.
Most of the time, white papers are offered for free in exchange for personal information such as the person's email address or job title. It is an effective way to qualify your prospects.
Practical Tools
Just like white papers, practical content provides your audience with valuable information. This can be a template for editorial calendar, a spreadsheet or an invoice for example. In exchange for downloading the content, your contacts will be willing to provide you with valuable information.
The goal of these tools is to help your prospects carry out their daily tasks effectively and increase their confidence in you.
Case Studies
Do you have experience in your field? Have you successfully assisted many clients? Show your prospects with case studies!
Explain the challenges your clients have faced and outline how you helped them overcome these obstacles. This will allow your prospects to project themselves working with you more easily.
Best Practices for an International Content Strategy
To generate international leads, content marketing remains your best ally.
However, it is not sufficient to simply replicate what worked in the original country. Each market has its own codes. It's up to you to adapt.
Before launching your business in a new country, remember to analyze your target's needs and expectations. This will allow you to determine the right messages and distribution channels. This is the only way to succeed in your expansion.
Let's say you want to start selling in China. Most Western social networks are censored there. This means you will have to follow the local customs.
To be successful, don't be afraid to look at what your competitors are doing in terms of content marketing.
Each type of content comes with its own specificities and it is best to combine several of them in your lead generation strategy for a stronger impact. The choice will depend on your audience, their needs and where they are in the conversion funnel. You can also use external service providers and rely on their expertise to get your content marketing strategy started faster. VirtualExpo offers services for your social media and email marketing campaigns. Talk to your VirtualExpo consultant today!